bain maries
Commercial Bain Marie Solutions
We still refer to them as 'Bain Maries' but apart from maintaining a fixed temperature, Versigen's Bain Marie units have little in common with traditional wet well Bain Maries. Our units predominantly offer energy efficient fan heating systems which spread heat evenly, resulting in faster heat up times and quicker heat recovery. Choose from portable or static units, heavy duty or lightweight, bench top or all-in-one models (with gantries and over shelves). Make your space work for you with our extensive range of Bain Maries with Hot Cupboards. Versigen has the perfect Bain Marie solution for any Australian commercial kitchen.
Benchtop bain maries
For benchtop bain marie solutions please see our range of Versitops – countertop food warming units with optional accessories including Bain Marie adaptors, Carving Plates, Chip Slides and Bag Holders.
You might also be interested in the following products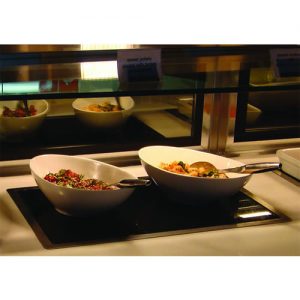 Versigen's 'In-Counter Versitop' Food Warmers use the same black tempered glass heating panels as Versitop units & can be installed in any type of bench with a suitable cut-out and access to a standard 10 amp power point.
Versigen's 'Versitop' Food Warmers are 1-4 panel, gastronorm sized, countertop bain marie alternatives. Portable, affordable and strong.