Got a question about these products?
Versitop Hot Tops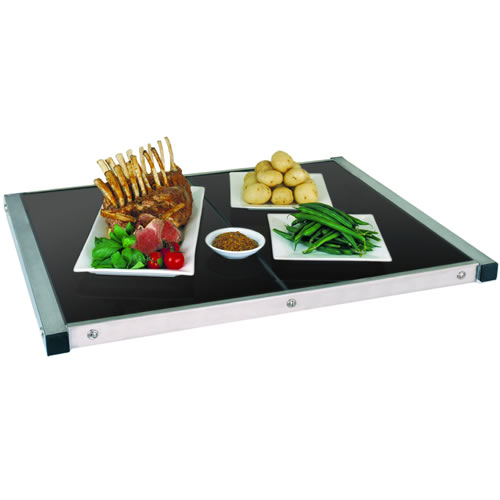 Model shown - FT2
Versitop Countertop Hot Food Display
Product Information
Ideal for Buffets, Hot Food Display and Meal Plating.
Ceramic glass hot food display. Models from 1 x1/1GN size to 4 x 1/1GN size 1-4 Panels. Keep Hot Food HOT!
These food warming units have tops inset with toughened black ceramic glass heating panels. Each panel has built in heating elements which ensure evenly distributed heat over the entire surface area. Surface temperatures are factory set to mainatin cooked food at 90° - 100° Celcius. Each panel is 1/1GN Gastronorm size. Suitable for Gastronorm size pans or any shape of heatproof dish shape can be used.
Models with heated gantry and sneeze screen are also available. Please contact Versigen for adittional information.
Add a Gastronorm pan accessory (FTBA) to securely hold Gastronorm-size food containers securely in place during service.
Other accessories include a Carving Plate, Bag Holder and Chip Dump.
Features
Portable and easy to transport
Electric - plug in to any standard 10 amp outlet
Exceptionally low power consumption
Safe to use - no dangerous steam
Easy to clean - no exposed heating elements
Extend with accessories - Bain Marie Adaptor, Chip Dump, Bag Holder, Carving Plate
Fast Heat-Up and Cool-Down times
No heat is generated from the bottom or sides
Specially designed acrylic screens available to prevent access to hot food from the front and sides
Model Specifications
FT1
L.422 D.539 H.80 8kg 10amp/0.18kW
FT2
L.750 D.539 H.80 13kg 10amp/0.36kW
FT3
L.1078 D.539 H.80 18kg 10amp/0.54kW
FT4
L.1406 D.539 H.80 23kg 10amp/0.72kW
Downloads
DWG files available on request
Find your local dealer
Gallery images showing optional accessories & alternative Versitop models (click for descriptions & to view larger images)
Model Specifications
Code:

FT1

One panel versitop
Length: 422
Depth: 539
Height: 80
Weight: 8kg
Power rating: 10amp/0.18kW
Panel size: 1GN
Code:

FT2

Two panel versitop
Length: 750
Depth: 539
Height: 80
Weight: 13kg
Power rating: 10amp/0.36kW
Panel size: 2GN
Code:

FT3

Three panel versitop
Length: 1078
Depth: 539
Height: 80
Weight: 18kg
Power rating: 10amp/0.54kW
Panel size: 3GN
Code:

FT4

Four panel versitop
Length: 1406
Depth: 539
Height: 80
Weight: 23kg
Power rating: 10amp/0.72kW
Panel size: 4GN
Versitops are designed to maintain cooked food temperatures. Versitops are not induction units and therefore can be used with any heatproof food container, including cast iron and terracotta dishes (dishes with abrasive bases should be avoided). Hot food can be displayed for extended periods without chafing dishes. All units supplied with 10 amp cable and plug.