Environmentally Friendly FoodService Equipment
Making foodservice equipment more sustainable

Green Thinking
Our engineers and designers are developing alternative technologies for our foodservice equipment range that not only save energy but also deliver practical, efficient performance. The factory is also reducing its carbon footprint in every area of operation, by minimising the environmental impact of its manufacturing, packaging and delivery.
So when you specify Versigen, you can be sure that your equipment is as sustainable as possible, from start to finish.
Here are some examples of our 'Green Thinking';
Multi Fan Technology – 48% more energy efficient
Versigen's Sahara multi-fan system saves energy by heating and chilling up to 48% more efficiently in, for example, banqueting systems and regeneration ovens.
The system blows re-circulated air through heating or chilling elements, rather than the conventional method of drawing air through the heat exchanger or heating elements first. As well as being more energy-efficient the system gives safer, more predictable temperature control. It is also up to 55% faster than using standard elements. For example, a recently upgraded hot cupboard Bain-marie unit incorporating a Sahara fan heating unit proved to be 48% more efficient than before.
Food Service Display – 62% energy savings
By redesigning components such as refrigerated cold wells and vent panels, our factory has made refrigerated food display units up to 62% more energy efficient.
High density foam insulation – 43% energy savings
Energy-saving features that are now integral to our range include extra-high density foam for refrigeration products, which save up to 43% of consumption.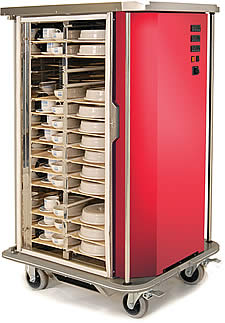 Single Tray Trolley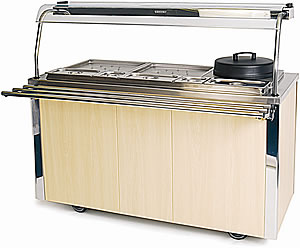 Carvery Unit
Low-energy lighting for counters
and serveries – 85% energy savings
Versigen has pioneered the use of alternative lighting systems for food service counters, such as ones using fibre optics and LED lights. These can save energy, increase performance and enhance appearance. LED lights save about 85% compared to conventional lighting and the bulbs last much longer.
Power-sharing units – cut energy use by 30%
Versigen's cutting-edge power-sharing units require 30% less energy. Which means products such as mobile bulk food trolleys, with plate warmer, fridge, oven, hot-top and gantry, can be powered from a standard l0 amp socket.