Catering Trolley Powerdrive
'Versidrive'- battery electric powerdrive system suitable for catering trolleys. Designed & assembled in Australia
Dual Drive Shown
Make Life Easier
Workcover Claim Prevention
Workplace Rehabilitation
Fatique Reduction
Staff Retention
Easy to Use
Never before has a power drive system been designed to give you simplicity of use, reliability and ruggedness all at an affordable price. Suitable for a large range of hospital and nursing home appliance and trolley applications, this unique power drive system incorporates the latest technology giving you peace of mind and great value for money.
Easy to Fit
What makes this trolley drive system so unique is its ability to fit all types of modern trolley types.
Please contact us and we will be able to assist you in the supply and fitment of a power drive system today.
Key Features
New ergonomic handle design
Fits most trollies available
Rated for up to 250kg capacity
Adjustable hand control height
Manual Overide
Many safety and design features
Long life battery system
Automatic battery charging system

Drive position

Storage position

Charging position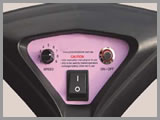 Simple to use controls ensure safe & easy staff operation
Specifications
Motor4v/36v hub drive brushed electric motor/s
Motor MountAdjustable chromed steel frame
Motor TyreDupont polyurethane hospital grade tyre
Motor Weight5.2 kg tyre
Controller30A high current PWM controller w/ safety cutouts
Controller MountAluminium, height and force adjustable
Controller Weight1.2 kg
Speed Control0-4.8 kmph
Range5 km
BrakingElectric automatic brake
Max Load Single Drive150kg
Max Load Double Drive250kg
Max Incline for Use1:14 gradient
Floor TypeIndoor use / external dry level only
Battery Single Drive2 x 7.2 Ahr sealed dry batteries (24V)
Battery Double Drive3 x 7.2 Ahr sealed dry batteries (36V)
Battery Protection2 x fuses in battery box
Battery Charger Single Drive24v automatic battery charger
Battery Charger Double Drive36v – 2 amp automatic battery charger
Kit Model (Weight)POWERKIT_Single Drive (14.5kg)
Kit Model (Weight)POWERKIT_Double Drive (18.5kg)
Kit Dimensions395mm x 295mm x 400mm carton