bf trolleys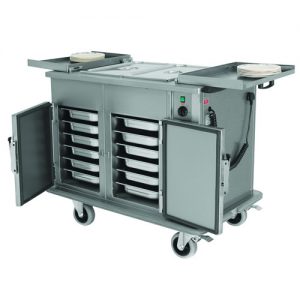 The BF2B Food Trolley has a bains marie well in the top that can hold 2 x 1/1 gastronorm up to 150mm deep, the bains marie is fitted with hinged covers which convert to service areas when opened out. Each..
Each compartment in a BF2 can hold 8 1/1 gastronorm containers 65mm deep.
With the plate converter fitted (either factory or retro) the PM range can accommodate 16 plated meals in each compartment.
Heavy duty heated and/or refrigerated trolleys designed to distribute plated meals or bulk food in gastronorm containers. Trolleys are available with two or three compartments and each compartment can be specified to suit either plated meals or 1/1GN food containers (or smaller equivalents). Models also available with heated Bain Marie Top complete with hinged covers which open to provide two plating shelves.
Trolleys are manufactured from type 304 stainless steel and doors are double-skinned with slam catch handles and heavy duty seals.
Separate temperature controls and digital display fitted to each compartment. Supplied with 10 amp or 15 amp plug, according to power rating.